Transfer Tracker: USC adds another Texas transfer
Mark Pszonak contributed to this report.
The transfer portal never stops grinding. USC continued to succeed in landing Texas Longhorn transfers on Tuesday afternoon when wide receiver Jake Smith decided to join the Trojans. He joins Keaontay Ingram, Malcolm Epps and Xavion Alford as ex-Longhorns now in Los Angeles.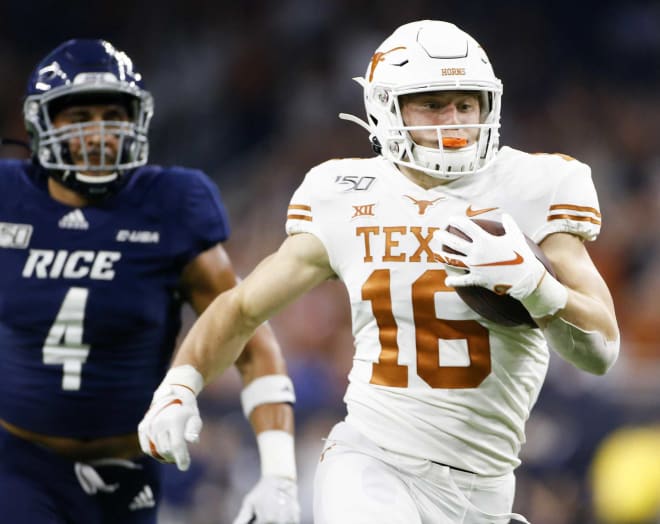 Recruiting: Smith committed to Texas at the conclusion of a June official visit to Austin. He had previously taken an official visit to USC.
At Texas: As a true freshman in Austin, Smith finished with 25 receptions for 276 yards and six touchdowns. Then in 2020, he added 23 receptions for 294 yards and three touchdowns.
Farrell's Take: Smith has a ton of talent and can be used in many ways on offense as a wide receiver or running back and he could even play defense if needed. He started off very well at Texas but injuries limited him a bit and he fell behind some other receivers. He's a high level Power Five athlete to me USC didn't really need wide receiver help but they couldn't pass on him.
Impact Meter: 7.2 out of 10
IMPACT METER
The Transfer Portal continues to change the way college football programs recruit and manage their rosters so we here at Rivals.com continue to evolve our coverage. Each time a player of note enters the portal, we will examine their potential impact on the college football landscape and assign an impact rating, both when they enter the portal and when they choose a destination. The scale is from 1-10 and the description below explains the scoring scale.
1.1-4.0 — Not a big impact expected, likely a non-starter and down the bench depth player.
4.1- 6.0 — A solid impact can be expected in the right scenario and has the potential to battle for a starting job.
6.1-9.0. — A high impact player who won't change a program but will certainly be a very good contributor and starter.
9.1- 9.9 — A very high impact player who should start the moment he steps on the field and will change the outlook of a program immediately.
10 — A franchise transfer who has a chance to be an All American and one of the elite players in college football.