Five transfer portal defections that hastened Herm Edwards' firing
Herm Edwards' tenure as the Arizona State football coach is officially over. Edwards was fired from his position three games into his fifth season Sunday following the Sun Devils' loss to Eastern Michigan.
It's easy to point to several reasons why Edwards wasn't a success in Tempe. For one, he hadn't coached in college football since 1989 and had never been a head coach at this level. He ran afoul of the NCAA by hosting prospects on campus during the COVID-19 induced recruiting shutdown. He lost five full-time assistant coaches from last season's staff and essentially stopped recruiting, signing just six high school prospects in 2021.
MORE ON HERM: Gorney's thoughts | ASUDevils.com's Devils Digest TV
But it didn't help Edwards' cause that Arizona State also lost quite a bit of talent to the transfer portal. Including walk-ons, 26 Sun Devil players transferred away from the roster following last season. That included the team's three-year starter at quarterback as well as a promising young linebacker. It might not be a coincidence, then, that the team's major weaknesses this season have been throwing the ball on offense and stopping the run on defense.
We rank the five most impactful transfers to leave Arizona State in the 2022 cycle.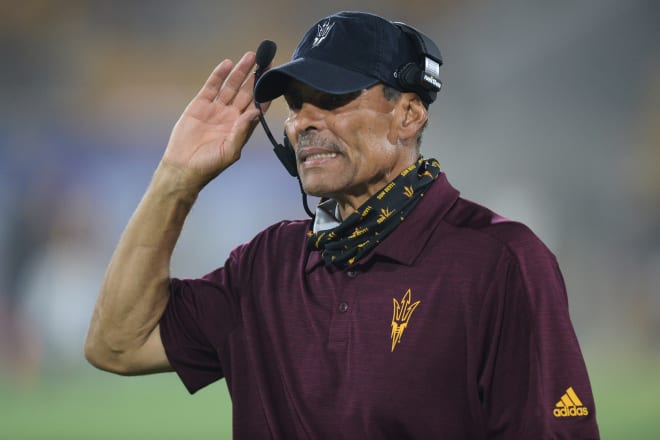 5. Spencer Lovell, OL
Lovell started Arizona State's final five games at right guard last season and looked like a likely candidate to take over as a full-time starter this season, but instead he transferred to California. Lovell has started each of the first three games for the Golden Bears.
Arizona State brought in a bevy of offensive linemen via the transfer portal, two of whom have started this season in Chris Martinez and Dez Holmes, but having another experienced player up front would certainly help an offensive line that Pro Football Focus ranks No. 98 nationally in pass blocking.
4. Johnny Wilson, WR
Wilson wasn't a major part of the Arizona State offense during his two years in Tempe, catching a total of 18 passes across those seasons. But he has shown this season, and particularly this week, what he can do. The 6-foot-7 target transferred to Florida State and has caught 11 passes for 260 yards and two touchdowns through three games.
During the Seminoles' win at Louisville on Friday, Wilson racked up seven catches for 149 yards and a pair of scores. Wilson was one of four scholarship receivers to transfer away from Arizona State after last season, and the Sun Devils clearly miss them in the passing game. Only one Arizona State receiver has caught a touchdown during the team's first three games.
3. Ricky Pearsall, Florida
Speaking of former Arizona State wide receivers who transferred to the Sunshine State, Pearsall led the Sun Devils with 48 catches, 580 yards and four touchdowns a season ago before leaving for Florida. He has been limited a bit by an injury, but through three games with the Gators, he has made seven grabs for 120 yards.
2. Eric Gentry, LB
Gentry looked like one of the most promising players on Arizona State's 2021 squad, playing all 13 games and starting four at linebacker as a true freshman. He totaled 45 tackles and earned freshman All-America honors. Then, he joined the mass migration of transfers to USC.
Gentry has started each of the first three games of this season for a resurgent Trojan defense and has made 22 tackles. Without Gentry, Arizona State has been inept against the run. The Sun Devils rank No. 102 nationally in run defense and gave up 305 yards on the ground to Eastern Michigan.
1. Jayden Daniels, QB
Things weren't always perfect for Daniels during his three years as the starting quarterback at Arizona State. In fact, the case could be made that his play got worse during the course of his time in Tempe. But with Daniels now starting for Brian Kelly and LSU, and Emory Jones struggling in his place as the Arizona State starter, it seems clear that Edwards needed to find a way to make it work with Daniels behind center.
Daniels scored 20 total touchdowns compared with two interceptions as a true freshman. Last season, however, he totaled 16 scores and 10 picks. Through three games at LSU, he has completed 69.5 percent of his passes — that's on pace to be a career high — for six touchdowns and no interceptions. He's also added two scores as a runner.
Jones, meanwhile, has averaged fewer than 200 yards per game through the air and thrown only two scores. Arizona State ranks 105th in the country in passing offense.