Transfer Tracker: Kentucky adds Bama WR
Mark Pszonak contributed to this report.
The transfer portal never stops grinding. While several Alabama players entered the portal soon after the conclusion of the National Championship game, many saw wide receiver Javon Baker as the top prize. On Friday, Baker decided to stay in the SEC with a commitment to Kentucky.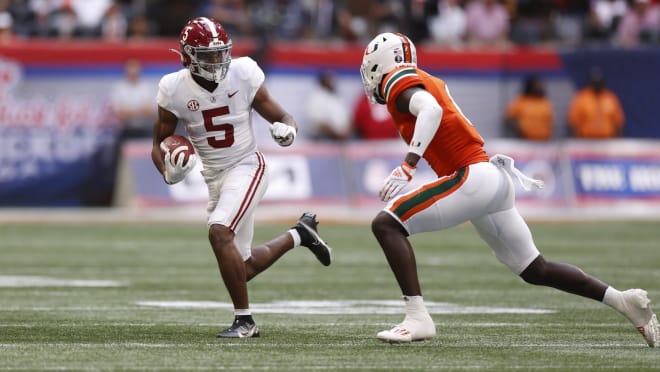 Recruiting: Baker earned his Alabama offer during a summer camp leading up to his junior season. While it took a couple of months, he eventually committed to the Tide by the end of the year. He also considered LSU, Arkansas and Florida.
At Alabama: During his two seasons with the Tide, Baker totaled nine receptions for 116 yards and one touchdown.
Farrell's Take: Baker has speed and he's an explosive downfield threat who was coveted out of high school and had a strong work ethic and desire to be great. Things didn't work out at Alabama but I feel Kentucky is getting a really good one here with excellent hands who can work outside or in the slot. On any other team he would have started by now.
Impact Meter: 8.3 out of 10
IMPACT METER
The Transfer Portal continues to change the way college football programs recruit and manage their rosters so we here at Rivals.com continue to evolve our coverage. Each time a player of note enters the portal, we will examine their potential impact on the college football landscape and assign an impact rating, both when they enter the portal and when they choose a destination. The scale is from 1-10 and the description below explains the scoring scale.
1.1-4.0 — Not a big impact expected, likely a non-starter and down the bench depth player.
4.1- 6.0 — A solid impact can be expected in the right scenario and has the potential to battle for a starting job.
6.1-9.0. — A high impact player who won't change a program but will certainly be a very good contributor and starter.
9.1- 9.9 — A very high impact player who should start the moment he steps on the field and will change the outlook of a program immediately.
10 — A franchise transfer who has a chance to be an All American and one of the elite players in college football.