Transfer Tracker: MSU DB flips from Wisconsin to Kansas
Mark Pszonak contributed to this report.
The transfer portal never stops grinding. A month after giving a commitment to Wisconsin, Michigan State transfer defensive back Kalon Gervin flipped his pledge to Kansas.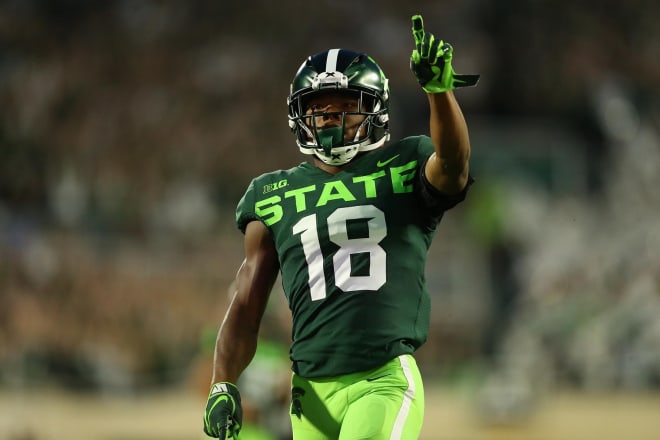 Recruiting: Gervin took official visits to Oregon, Oklahoma and Nebraska during his senior season, but this came down to the Ducks and in-state Michigan State. A couple of days after returning home from his official visit to Oregon, he committed to the Spartans in early December.
At Michigan State: Gervin, who redshirted as a true freshman after playing in three games, totaled 44 tackles, four pass breakups and one defensive touchdown at Michigan State. During the 2021 season, he started the first two games of the season, and finished with 14 tackles in three games.
Farrell's Take: Gervin has shown he can play at the Power Five level so that's not an issue but with space limited and a likely enrollment somewhere in January I thought he'd have to be more patient for his opportunity. But now he's on his second Power Five school after committing to Wisconsin and then changing his mind and heading to Kansas. He has coverage and tackling skills for sure and his upside is there to be an immediate contributor. His impact is even higher at Kansas that it would be at Wisconsin.
Impact Meter: 8.2 out of 10
IMPACT METER
The Transfer Portal continues to change the way college football programs recruit and manage their rosters so we here at Rivals.com continue to evolve our coverage. Each time a player of note enters the portal, we will examine their potential impact on the college football landscape and assign an impact rating, both when they enter the portal and when they choose a destination. The scale is from 1-10 and the description below explains the scoring scale.
1.1-4.0 — Not a big impact expected, likely a non-starter and down the bench depth player.
4.1- 6.0 — A solid impact can be expected in the right scenario and has the potential to battle for a starting job.
6.1-9.0. — A high impact player who won't change a program but will certainly be a very good contributor and starter.
9.1- 9.9 — A very high impact player who should start the moment he steps on the field and will change the outlook of a program immediately.
10 — A franchise transfer who has a chance to be an All American and one of the elite players in college football.