Transfer Tracker: Plenty of interest for Alabama LB
Mark Pszonak contributed to this report.
The transfer portal never stops grinding. Once Alabama linebacker Drew Sanders put his name into the portal officially, serious interest quickly piled up with more and more coming by the hour.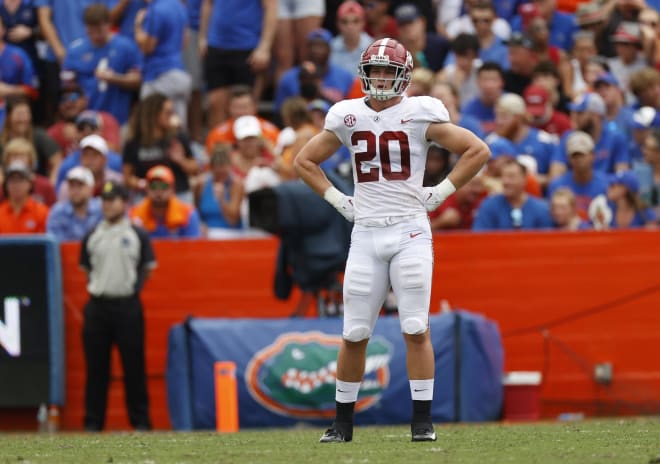 Recruiting: Sanders initially committed to Oklahoma, but flipped to Alabama after a spring official visit to Tuscaloosa.
At Alabama: While he totaled 33 tackles, 2.5 tackles for a loss and one sack during his two seasons with the Tide, Sanders began to see increased time in 2021 with 24 tackles, 2.5 tackles and one sack.
Potential landing spots: Sanders will have multiple options, but some of the early schools that have shown the most interest include Arkansas, USC, Texas Tech, Texas A&M, Virginia Tech, Baylor, Texas and the Sooners, who he was committed to in high school before flipping to the Tide.
Farrell's Take: He was once committed to OU so they stand out and Arkansas is going to make a strong push here. I've heard Texas showing interest as well but many think he will end up back with the Sooners or stay in the SEC with the Hogs. This could be a quick decision and he has the ability to make a major impact as a player who was close to a fifth star out of high school.
Impact Meter: 8.3 out of 10


IMPACT METER
The Transfer Portal continues to change the way college football programs recruit and manage their rosters so we here at Rivals.com continue to evolve our coverage. Each time a player of note enters the portal, we will examine their potential impact on the college football landscape and assign an impact rating, both when they enter the portal and when they choose a destination. The scale is from 1-10 and the description below explains the scoring scale.
1.1-4.0 — Not a big impact expected, likely a non-starter and down the bench depth player.
4.1- 6.0 — A solid impact can be expected in the right scenario and has the potential to battle for a starting job.
6.1-9.0. — A high impact player who won't change a program but will certainly be a very good contributor and starter.
9.1- 9.9 — A very high impact player who should start the moment he steps on the field and will change the outlook of a program immediately.
10 — A franchise transfer who has a chance to be an All American and one of the elite players in college football.