Transfer Tracker: Rattler hits the portal
Mark Pszonak contributed to this report.
The transfer portal never stops grinding. Considered the Heisman Trophy favorite coming into the 2021 season, Spencer Rattler saw plenty of change in the last month which resulted in the Oklahoma quarterback officially entering the portal earlier today.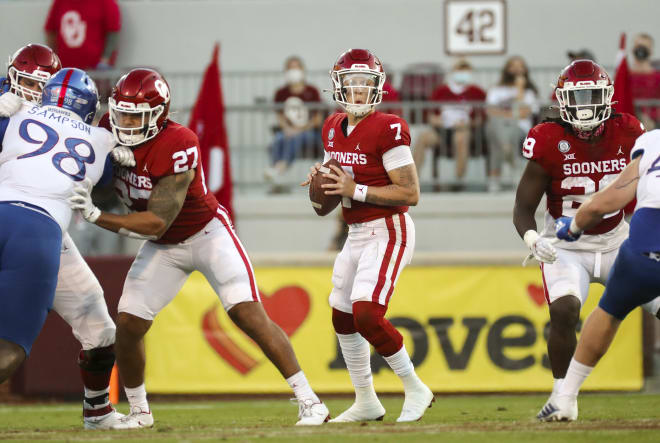 Recruiting: Rattler was an early commitment to Oklahoma, making his decision during the summer leading up to his junior season.
At Oklahoma: Rattler finished his Oklahoma career with 4,595 yards, 40 touchdowns and 12 interceptions. The majority of his success came in 2020 when he passed for 3,031 yards and 28 touchdowns as a redshirt freshman.
Potential landing spots: There have been plenty of possible landing spots, including Ole Miss, South Carolina, Arizona, USC, SMU and Penn State, but it looks like Arizona State is the most likely future home for Rattler at this point. The Trojans were considered a real possibility, but with Lincoln Riley heading there, don't expect Rattler to follow his ex-coach to Los Angeles.
Farrell's Take: Rattler has amazing talent and a rare arm and it's clear he has the potential to be a star in college and beyond. The questions are more about attitude than anything else and he needs to rehab his image somewhere. I see a rebirth out west likely at Arizona State although it's still early. His arm talent is off the charts.
Impact Meter: 9.3 out of 10
IMPACT METER
The Transfer Portal continues to change the way college football programs recruit and manage their rosters so we here at Rivals.com continue to evolve our coverage. Each time a player of note enters the portal, we will examine their potential impact on the college football landscape and assign an impact rating, both when they enter the portal and when they choose a destination. The scale is from 1-10 and the description below explains the scoring scale.
1.1-4.0 — Not a big impact expected, likely a non-starter and down the bench depth player.
4.1- 6.0 — A solid impact can be expected in the right scenario and has the potential to battle for a starting job.
6.1-9.0. — A high impact player who won't change a program but will certainly be a very good contributor and starter.
9.1- 9.9 — A very high impact player who should start the moment he steps on the field and will change the outlook of a program immediately.
10 — A franchise transfer who has a chance to be an All American and one of the elite players in college football.