Transfer Tracker: Veteran Miami DB enters portal
Mark Pszonak contributed to this report.
The transfer portal never stops grinding. A veteran with plenty of experience, as well as 148 career tackles, quickly became a hot name in the portal on Monday when Miami defensive back Gurvan Hall became available.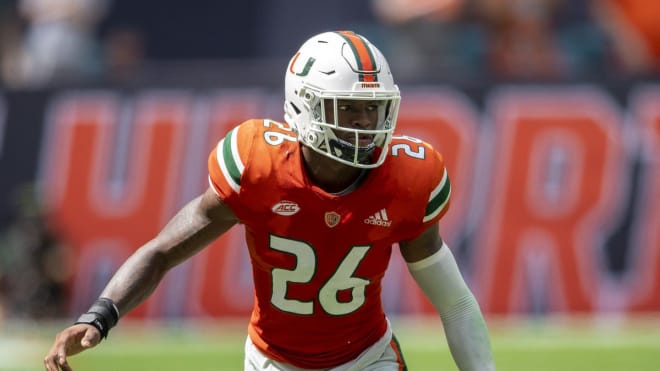 Recruiting: Hall was mainly focusing on Miami, Florida State, Georgia and Alabama when he committed to the Canes during the spring after his junior season.
At Miami: Hall totaled 148 tackles, six tackles for a loss, two sacks, one interception and six pass break-ups during his Miami career. He started 14 games with the Canes, including 11 in 2019.
Potential landing spots: Hall has been busy since he entered the portal, with early interest coming in from Nebraska, Vanderbilt, Texas Tech, Western Kentucky, Utah State and Coastal Carolina.
Farrell's Take: Hall has been around for awhile and has shown he can impact at a high level so I expect him to land with someone in the Power Five. I expect more Southeast programs to jump in here as time goes on and his tackling ability will be coveted. He could drop down to the Group of Five level if he wants to stay in Florida as well.
Impact Meter: 7.0 out of 10
IMPACT METER
The Transfer Portal continues to change the way college football programs recruit and manage their rosters so we here at Rivals.com continue to evolve our coverage. Each time a player of note enters the portal, we will examine their potential impact on the college football landscape and assign an impact rating, both when they enter the portal and when they choose a destination. The scale is from 1-10 and the description below explains the scoring scale.
1.1-4.0 — Not a big impact expected, likely a non-starter and down the bench depth player.
4.1- 6.0 — A solid impact can be expected in the right scenario and has the potential to battle for a starting job.
6.1-9.0. — A high impact player who won't change a program but will certainly be a very good contributor and starter.
9.1- 9.9 — A very high impact player who should start the moment he steps on the field and will change the outlook of a program immediately.
10 — A franchise transfer who has a chance to be an All American and one of the elite players in college football.