Transfer Watch: Five ACC QBs that could be on the move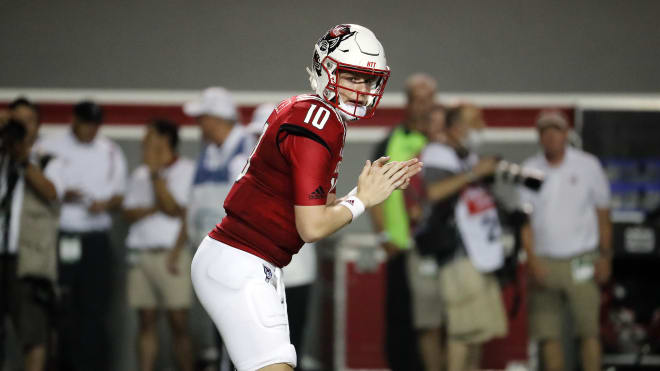 Coaches want experienced field generals, so it is no surprise that transfer quarterbacks garner as much attention as the beverage cart girl at a golf course.
Boise State quarterback Hank Bachmeier, a 29-game starter, already announced his intentions to enter the NCAA transfer portal as a graduate transfer when the transfer portal window opens for football players on Dec. 5
At that time, expect to see some ACC quarterbacks decide to hit the reset button and enter the portal. Today, we look at a few players who could be calling signals for another program in 2023.
MORE IN THIS SERIES: Five SEC QBs on the transfer watch | Big Ten
*****
CLASS OF 2023 RANKINGS: Rivals250 | Team | Position | State
CLASS OF 2024 RANKINGS: Rivals250 | Team | Position | State
TRANSFER PORTAL: Stories/coverage | Message board
*****
Ben Finley, NC State
The brother of three-year NC State starter Ryan Finley (2016-2018), Ben Finley became a fan favorite when he came off the bench to replace Bailey Hockman against UNC in 2020. Finley was 9-of-12 for 128 yards with a touchdown and an interception in the first half. The second half wasn't very good, and Finley did not play the rest of the season. He saw action at quarterback in three games last year. He has not seen action this season and was left off the depth chart for the Wolfpack's season opener against ECU.
*****
Khalib Johnson, Louisville
Johnson fits that mold of a highly touted freshman who hasn't cracked the depth chart and lost the backup quarterback competition. It's also worth noting Louisville has four-star 2023 QB Pierce Clarkson coming in, which will likely be a factor in Johnson's decision.
*****
Phil Jurkovec, Boston College
Jurkovec was the fifth-ranked dual threat quarterback in the 2018 class. He committed to Notre Dame but appeared in just eight games in two seasons before deciding to transfer to Boston College in January of 2020. Jurkovec has started 20 of the 28 games he has played in for the Eagles and has one more year of eligibility remaining (COVID year). If things don't turn around for B.C. this season, Jurkovec could go portaling.
*****
Jeff Sims, Georgia Tech
Sims has some flexibility. He has plenty of experience, having started 20 of 22 games that he has appeared in over the course of three seasons at Georgia Tech, throwing for 4,088 yards, 27 touchdowns and 22 interceptions. He has run for an additional 975 yards and 10 touchdowns. In his true freshman season Sims was named ACC Rookie of the Week three times, becoming the first Yellow Jacket to be earn the honor as many as three times since Calvin Johnson in 2004. Depending on who is hired to replace Geoff Collins we could see Sims enter the portal.
*****
Tyler Van Dyke, Miami
Yes, I'm going there. Van Dyke took over the Hurricanes' starting quarterback job last season due to an injury to D'Eriq King and went on to throw for 2,931 yards and 25 touchdowns with six interceptions while completing 62.3 percent of pass attempts (202 of 324). For his performance, the redshirt freshman earned 2021 ACC Rookie of the Year honors. Justifiably so, Miami fans and new Hurricanes head coach Mario Cristobal thought they had a quarterback who could lead the 'Canes back to heights they haven't enjoyed since George W. Bush was president.
Earlier this season Van Dyke's name was even being mentioned during Heisman Trophy conversations. All of that changed with consecutive losses to Texas A&M and Middle Tennessee State. Van Dyke is averaging 202 yards passing and one touchdown per game. Fans in Hard Rock Stadium were chanting backup QB Jake Garcia's name after Van Dyke's second early interception against MTSU. The 'Canes have a bye this week, so who will get the start at QB vs. North Carolina on Oct. 8 remains to be seen. If it isn't Van Dyke he could be looking for a fresh start when the transfer portal window opens.