Transfer Tracker: LSU starting OL enters portal
Mark Pszonak contributed to this report.
The transfer portal never stops grinding. LSU lost an important piece of their offensive line on Monday, while other schools now have the opportunity to add a veteran, when Dare Rosenthal entered the portal.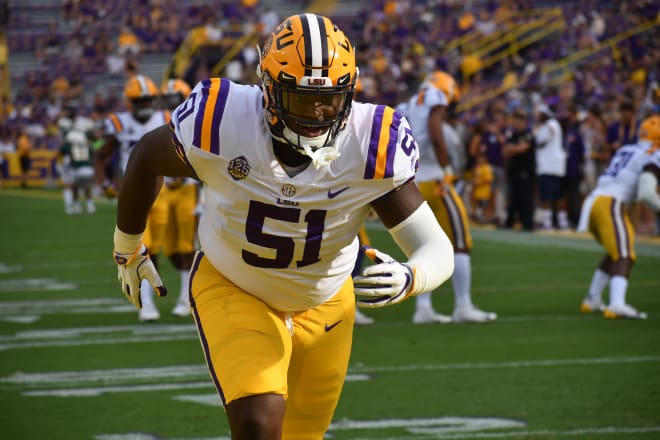 Recruiting: Rosenthal initially was an early commitment to Alabama, but after re-opening his process he also considered LSU, Florida, Florida State, Auburn, Michigan and Texas. He strengthened his relationship with the LSU coaching staff, attended their spring game and committed to the Tigers in June.
At LSU: Rosenthal arrived in Baton Rouge as a defensive tackle, but made the move to offensive tackle following his freshman season. In 2019 he played in seven games, serving as the primary backup to Saahdiq Charles. He then started six of eight games at left tackle for LSU last fall.
Potential landing spots: Upon entering the portal, two schools immediately jumped to the forefront; Kentucky and Baylor. Rosenthal is close with former LSU defensive coordinator and current Bears' head coach Dave Aranda, while the Wildcats had success with a previous LSU transfer, Kelvin Joseph. Visits to both schools are expected. Miami has also been mentioned as a place of interest.
Farrell's Take: Rosenthal is a massive kid who has potential based on his size and his wingspan but needed some refinement in technique and footwork. He looked like a future offensive lineman to me because he played a bit high for defensive tackle but everyone wanted to give him a shot on defense out of high school. as a starter in the SEC, his value is clear and he will land where he wants with Kentucky the likely destination.
Impact Meter: 7.4 out of 10
IMPACT METER
The Transfer Portal continues to change the way college football programs recruit and manage their rosters so we here at Rivals.com continue to evolve our coverage. Each time a player of note enters the portal, we will examine their potential impact on the college football landscape and assign an impact rating, both when they enter the portal and when they choose a destination. The scale is from 1-10 and the description below explains the scoring scale.
1.1-4.0 — Not a big impact expected, likely a non-starter and down the bench depth player.
4.1- 6.0 — A solid impact can be expected in the right scenario and has the potential to battle for a starting job.
6.1-9.0. — A high impact player who won't change a program but will certainly be a very good contributor and starter.
9.1- 9.9 — A very high impact player who should start the moment he steps on the field and will change the outlook of a program immediately.
10 — A franchise transfer who has a chance to be an All American and one of the elite players in college football.